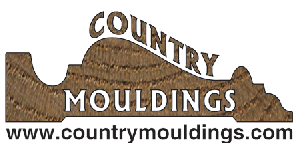 Premium Quality Wood Butcher Block Countertops,
Plank Countertops and Stair Treads
20% Off All Online Orders - Ends Sunday, December 10
(Prices displayed reflect discount)
Poly-Ash Exterior Trim

Poly-Ash Exterior Mouldings

Profile choices and sizes can be viewed using the following links:

Is your homeís exterior looking worn and tired? You arenít alone. Many homeowners wish they could give their home a facelift. With our unique line of moulding profiles made using Boral TruExterior Trim, you can instantly refresh the exterior of your home. By replacing your current exterior trim with high-quality TruExterior trim, you will add beauty and value to your home.

Why PolyAsh?

Unlike wood or vinyl, TruExterior trim is made of poly-ash. Poly-ash is manufactured by combining proprietary bio-based polymer chemistry and ash. It is made from more than 70% recyclable and renewable materials, so the impact to the environment is minimal. The result is a durable, long-lasting, sustainable exterior trim that is well suited for the demands of the outdoors.

This exterior moulding is also completely customizable. It is shipped to you in unfinished allowing you to paint on site. Just choose a complementing color to your homeís existing siding or masonry and paint.

Poly-ash exterior trim is resistant to rotting, cracking, splitting and termites, making this a valuable alternative to wood composites, fiber cement, vinyl or PVC. Other exterior mouldings and trim are instable, requires end sealing and in some cases costly installation. Poly-ash moulding maintains a high level of dimensional stability during periods of moisture and temperature change, can be painted in any color and is approved for ground contact. Choosing poly-ash trim is a long-term solution for your biggest investment, your home.

When you purchase TruExterior from an authorized dealer such as Country Mouldings, it also comes with a 20-year limited warranty from Boral.

Ordering Your Exterior Moulding

You can order your new TruExterior exterior trim in 8' lengths and custom profiles through the Country Mouldings online store. In just a few minutes you can be on your way to refreshing your homeís exterior and adding the curb appeal your home deserves.

Easy to install
Customizable
Resistance to rotting, cracking, splitting and termites

Profile choices and sizes can be viewed using the following links:


4" or less


4-1/16" - 8"