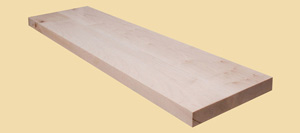 Maple Plank Countertop
Unfinished orders ship in two weeks and prefinished in three. To view shipping charges, add the product to the cart.
Maple is very strong, fine textured, and is normally light in color. The heartwood of Maple is dark brown, while the sapwood is ivory white. Maple Plank Style Countertops may contain some brown, but it will be minimal.
Maple Plank Style Countertops are constructed by gluing Maple wood boards side by side. The wood boards run the length of the countertop and are random widths between 3" and 6". The first and last wood boards of our Maple Plank Countertops may be less than 3" wide. Our wood plank style countertops are face grain providing a traditional look that has always been popular. Although our Maple Plank Style Countertops can be used for light food preparation when treated with a food safe mineral oil, they should not be used for cutting or chopping.
Made using only FAS and Select grade lumber
Quality craftsmanship
Rugged, sturdy construction
All full length boards of random widths
Face grain
Any size available, up to 2-1/4" thick, 7 feet wide and 15 feet long
Finishing Choices
If your plank countertop will not be used for any food preparation, conversion varnish is the recommended choice.
Unfinished:
All plank countertops must be sealed and finished. There are a variety of finishes on the market. Use a food grade mineral oil if you will be preparing food on your plank countertop. Otherwise, use a longer lasting finish such as a polyurethane. Follow the finish manufacturer's instructions. You can also stain, then finish, your plank countertop. Many stains are not food safe.
Conversion Varnish:
We apply three coats of our 45 sheen, catalyzed, commercial grade conversion varnish to the top surface. Two coats are applied everywhere else, including underneath. Our conversion varnish contains acrylic for extra durability. The result is a semi-gloss finish that looks spectacular! This is not appropriate if the plank countertop may be used for food preparation.
Mineral Oil:
We apply two coats of food grade mineral oil to all areas, including underneath. When you receive your plank countertop, you should apply one coat per day for a week to the top surface, sides, edges and any exposed areas underneath. After the seven coats, you should apply one coat per month to these same areas. This is appropriate if the plank countertop may be used for food preparation.
Testimonials

I ordered a maple plank for a cabinet counter top. It is beautiful and the service I received from Country Mouldings was very good. Thank you for a great experience in every aspect.
- Frances F.
Maple wide plank countertop, unfinished, 1-3/4" x 24" x 39"

I am very pleased with the product. The craftsmanship is excellent and the product was delivered without any issues. I will definitelly do business with you again. Thank you so much!
- Dragica H.
Maple wide plank countertop with beveled edges, prefinished with mineral oil, 1" x 15" x 36"

Thank you for the beautiful island top.Sorry this took so long; we're still renovating the home. The maple wood is so beautiful; I just love the light color. And the island is one of my favorite things in our new kitchen.
- Victoria E.
Maple wide plank countertop with roundover edges, unfinished, 1-3/4" x 30" x 96"

I ordered a maple plank "counter top" for a deep window sill in my kitchen. It was 9 feet by 1.5 feet with one edge showing plus a little on each side protruding from the wall. My experience was very good. The ordering process was easy. My requests for the way the edgeing should be done were followed exactly. I got feedback on what finish to use. It arrived within the expected time frame with no issues at all with shipping it to Montana. The product is high quality and the finish looks great. It really completes the window and looks like it will hold up over time. I am pleased and would recommend Country Mouldings to friends.
- Karen E.
Maple wide plank countertop with roundover edges, prefinished, 1" x 17-1/2" x 106-7/8"

Hi! We ordered a maple plank countertop, it arrived a couple weeks later, just perfect. Also good wrapping and shipping. No hassles and a good price!Andy
- Andy W.
Maple wide plank countertop with eased edges, unfinished, 1-1/2" x 26" x 48"