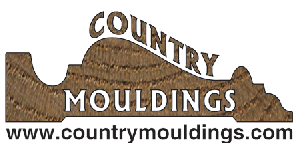 Premium Quality Wood Butcher Block Countertops,
Plank Countertops and Stair Treads
20% Off All Online Orders - Ends Wednesday, 7/8
(Prices displayed reflect discount)
Hickory Plank Style Countertop - Prefinished

I have used Country Mouldings over the past three years for various Kitchen, Bathroom, and home work shop projects in my main residence and vacation home.In every case the quality, timeliness of their delivered countertop case work products has been exceptional. I especially value the approach they have take in their web site which provides a clear understanding of the broad selection and finish choices available. Well done.CM is the embodiment of a well run enterprise that produces quality offerings. Keep up the great customer service!

Date Added: 09/16/2014 by Fred G.