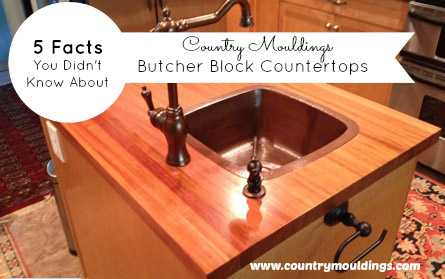 A kitchen is only as beautiful as its countertops. If you have seen butcher block countertops in a big box store, you may have some preconceived notions about them. Many homeowners feel that they are too "country" or not fancy enough for a home of distinction. The truth is, butcher block countertops fit just as well into a small country cottage as they do in a mansion. With the right choice of wood, you can complement the elegance of a traditional home or complete the perfect country kitchen. No matter what the style of kitchen you have in your home, there is a butcher block countertop to fit your space.
If you are contemplating putting one of these custom butcher block countertops in your home, here are a few facts about our Country Mouldings Butcher Block Countertops that you may not know:
Country Mouldings Butcher Block Countertops Are Built to Last
At Country Mouldings, we understand that countertops are the backbone of a kitchen. They need to be strong, durable and able to stand up to the demands of your kitchen. That is why we craft our butcher block countertops from full-length solid strips which are inherently stronger than the alternative of pressed wood covered with laminate. Our method not only makes the countertops aesthetically pleasing, it also makes them stronger and more durable. With the exception of knotty pine and knotty alder, we use FAS and Select Grade lumber when creating all of our countertops. These are the finest grades of lumber that you can find. The other butcher block alternatives will show signs of wear and tear much easier than a wood countertop. When you are choosing a product for your home, choosing a quality piece that is durable can ensure that you will enjoy your countertops for many years to come.
You Can Choose Your Wood
Our butcher block countertops are not only custom made for the size of your cabinets, we can also create a one of a kind masterpiece by taking your choice of wood species and using them to create a custom countertop for your kitchen. We can even use different wood species to create a one of a kind masterpiece. Our large selection of wood choices offer a variety of color and grains, and we will be launching our stained collection of butcher block countertops soon.
Each Butcher Block Countertop is Custom Made
What sets Country Mouldings apart from other butcher block countertops is our customization. There is no "one size fits all" approach at Country Mouldings. Every butcher block is made for your kitchen and your kitchen alone. From your measurements, we craft a beautiful, custom and easy to install countertop. We also make quotation and ordering your custom countertop easy. Our website features instant quotations and easy ordering.
Most Country Mouldings Butcher Block Countertops Are Made From Locally Sourced Wood
Many of our woods used in crafting our countertops are found within a hundred miles from our shop. By using locally sourced wood, we are not only keeping the production times for custom products down, we are also supporting the economy here in the United States. We feel that using locally sourced wood from our "backyard" also adds to the character and charm of the piece.
All Our Butcher Block Countertops Are Handcrafted
Unlike the mass-produced version of a butcher block countertop, ours are crafted by hand. A team of skilled woodworkers oversee the whole process from start to finish. These countertops are made slowly and thoughtfully, just like they were in the old days.
These are just a few facts about our butcher block countertops. We hope this made your decision that much easier. Choosing high-quality butcher block countertops for your kitchen will ensure that they will last for many years to come. At Country Mouldings, we pride ourselves on producing high-quality custom wood countertops for homes across the country and we hope we can create one for your home as well.
We would welcome the chance to show you the Country Mouldings difference. Head over to our online store where you can get an instant quotation and begin building your dream kitchen today!