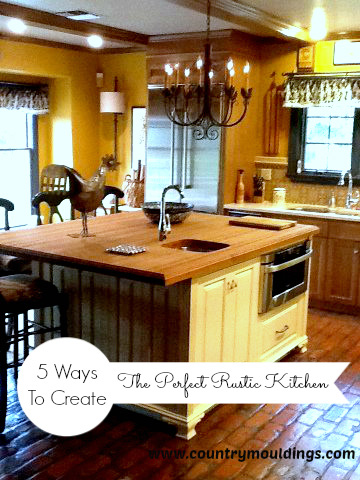 When you think about a rustic kitchen, what do you see? Most people will agree that wood is a prominent theme in this style of kitchen. Whether it is used as the primary focus or just to add warmth and character to the space, the use of wood can transform an ordinary kitchen into something extraordinary. When you are looking for a kitchen that reminds you of a rustic retreat, choosing the right countertops, flooring and accessories is key. Homeowners that want the full rustic experience should choose woods with character that are hand-crafted just as they were in the past.
Country Mouldings features high quality hand-crafted wood countertops, flooring and trim that can help create the kitchen you desire. Here are a few tips from us for crafting the perfect rustic kitchen.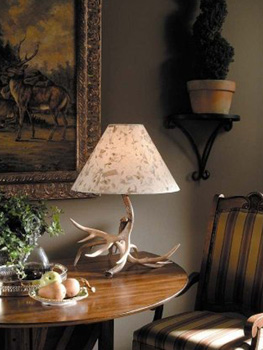 ***From Amazon.com
Hand-Scraped Wood Flooring
Rustic kitchens are full of character. By using woods that have unusual grain patterns or unique characteristics, you can easily recreate that style. One way you can add the rustic feel to your kitchen is through the use of hand scraped wood flooring. At Country Mouldings, our woods are not scraped by a machine, they are created by a skilled woodworker scraping the wood by hand. The end result is a textured and unique piece of wood that adds rustic charm to your floor. We offer hand scraped wood in many species ranging from American Cherry to Beech.
Wood Countertops
Using wood countertops to create a rustic feel in your kitchen is the perfect choice. Wood countertops are not only durable, but they tend to get better with age. Many woods will deepen with time, adding to the character of the piece. Choosing woods that have visible grains or a custom butcher block countertop that marries light and dark wood can create a one of a kind masterpiece. Our plank style wood countertops are also a great choice for a rustic kitchen. Because the planks are placed together in random widths, it makes each countertop completely unique.
Unique Cabinets
Choosing the right cabinets in your rustic kitchen can be challenging. Your cabinets should have the same character but not compete with your flooring and countertops. You can do this with creative painting and staining techniques or using paints like milk paint to give your cabinets a rustic and primitive feel. Gently sanding the corners to expose the natural wood from underneath the paint can help make new cabinets look aged.
Rustic and Primitive Accents
Finding the perfect accent pieces to accessorize your kitchen can be the fun part. You can scour thrift stores and antique shops to find one of a kind pieces. Specialty stores like Cabela's and Bass Pro Shops often carry home decor that fits well in a rustic space. You can also accent your rustic kitchen with antlers, pine cones and berries and other elements that you find in nature.


***From Cabelas.com
Color Scheme
A rustic kitchen generally marries dark wood with natural colors like green, brown and tans. In smaller spaces, a homeowner may be hesitant to use dark woods as it can make the room look smaller. In that case, using a lighter wood like knotty pine can add the character you are looking for, but not make your kitchen look smaller.
Choosing the right wood countertops, flooring and moulding is an important decision, especially because you will be enjoying them for many years to come. Country Mouldings high quality wood products are not only hand crafted but are also custom made to fit your kitchen at no extra cost. You can get an instant quote online and in a few clicks be on your way to creating your rustic kitchen.
What suggestions do you have to create the perfect rustic kitchen? Leave them in the comments below!