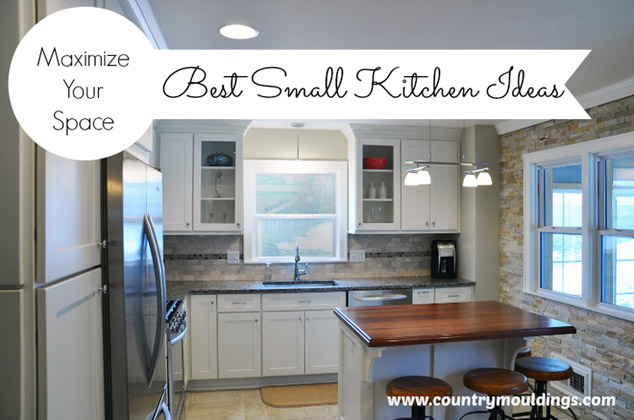 You may have heard about the "Tiny Living" movement on shows on television or saw it in the news. Many people are choosing to downsize and live small to gain simplicity and financial freedom. In fact, many Americans live in smaller homes and love it. Although you may have embraced living in a small home, the one area you always feel the squeeze is the kitchen. The kitchen is where most families spend a lot of time preparing food and congregating. Take notice of your next party where everyone is hanging out and socializing. It's the kitchen!
Whenever we talk with our customers about any challenges they have in their current kitchen, it usually involves space. When renovating a kitchen in a small home, it's not always feasible to add more space to the kitchen, so working with what you have becomes key!
Here are a few of the best small kitchen ideas so you can make the most of your space:
Create a New Prep Space
Small kitchens don't always have a lot of preparation space. Creating a separate area for preparation that doubles as storage can add volumes to your small kitchen. A kitchen island with one of Country Mouldings high quality butcher block countertops is not only beautiful but functional. Even a small island can add much needed countertop space and room to store additional kitchen tools. Use the cabinets in the kitchen island to store appliances, canisters and other items that you would normally leave on the countertops. For small kitchen islands, you can have wheels added so it can be moved around or tucked away when not in use if you are worried about taking away from your already tight space.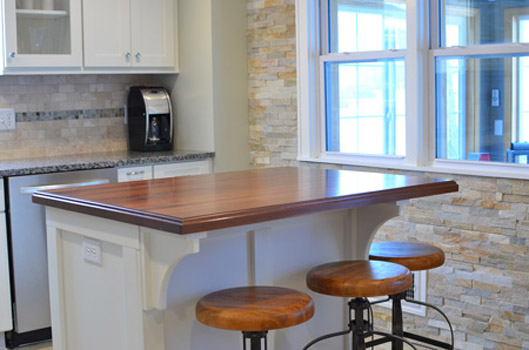 A small kitchen island can add seating, storage and preparation space to any kitchen.
Buy Multi-Purpose Appliances and Accessories
When you are short on space, finding kitchen tools and appliances that serve many purposes is crucial. Instead of a bulky stand mixer, food processor and blender, opt for a hand blender with attachments that function as all three. You can ditch your griddle, panini press and George Foreman grill for a multipurpose Griller with interchangeable plates or use griddle/grill plates that fit on your gas stove. Take stock of the appliances you have and get rid of those you don't use on a frequent basis. Don't get caught up in purchasing specialized appliances like cake pop makers and rotisseries that take up space and only get used occasionally.
Any bowls, dishes and pots that nest or stack will save a lot of space in your cabinets. Choose attractive serving dishes that can also be used on the stovetop, oven and microwave. Store away any seasonal items until you need them. If you are a once a year cookie baker for the holidays, don't keep all of your supplies in the kitchen all year round. Use another storage area in your home.
Banish Clutter & Organize Like a Pro
With the DIY craze in full steam, you can get tons of ideas for smart organization in small spaces. Sites like Pinterest or Apartment Therapy are ripe with inspiration. Clutter not only makes your kitchen look smaller, it also takes attention away from your beautiful countertops. To keep the clutter to a minimum you can try tricks like using chalkboard paint on the inside of kitchen cabinets or adding a magnetic board. Using the space inside your cabinet doors can help to alleviate the clutter from your refrigerator and removes the need for a kitchen station where papers and pictures collect.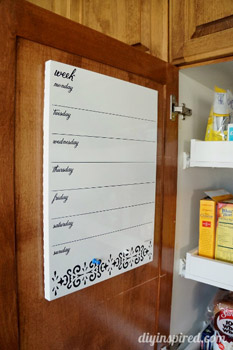 ***Photo courtesy of DIYinspired.com
In cabinets you use to store pantry items, look for products like a spice organizer that stacks spices and stackable food containers lets you make the most out of a small pantry. If you have tall cabinets, use risers to stack items on top of each other. To hang mugs and teacups, find a hanging rack at your local hardware store that attaches to the cabinet shelf above. If you are extremely short on space, use your oven to store pots and pans when not in use. Many of these items can be found at Organized Living or at Amazon.com
Use Light Colors to Make Small Spaces Appear Larger
One of the simplest "tricks" in designing small spaces is to use light colors to make a small space look open and airy. A dark room will make it appear smaller. White or light colored wood cabinets paired with light countertops can create the illusion of a much larger space. If you are afraid it will make your kitchen look washed out you can add some contrast by creating a custom wood butcher block countertop that blends dark and light woods or you can keep your countertops and cabinets light and use a darker hardwood flooring to create a dramatic look without making the space appear smaller.
The best small kitchen ideas are those that make the most of what little space you have. Country Mouldings has quality wood products for all sizes and styles of kitchens. Our high quality countertops and wood flooring are custom made to fit any size space. Get started making your dream kitchen a reality with our easy instant online quotation and ordering process today!