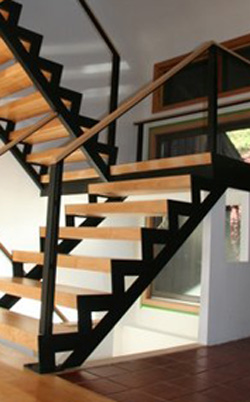 When you open the door to your home, what would you like to see? Many of us are desperate to give our homes an update but don't have the time or money to do a complete renovation. Looking for smaller projects to update your space is a great way to give your home a new look, without the hassle.
Your staircase is the first thing that greets you when you walk in your home. Why not start there? There are many ways to create a dramatic entrance and a modern look in your foyer. No matter what type of staircase you currently have, Country Mouldings has a solution to recreate your space. Updating your home can be as easy as replacing your tired, worn treads with a fresh new look! Here are five wooden stair treads that can update your home to a modern masterpiece.
Butcher Block Style Stair Treads
If you would love a staircase that makes a statement, you will love our butcher block style stair treads. These are generally sold in thicknesses of 3" and more. This stair tread has a chunky appearance that looks great in an open staircase. By choosing a wood like mahogany or walnut, you can create a warm modern entryway that will be sure to get many compliments. For light and airy spaces, birch or maple would make a great choice to highlight the natural light streaming into your home.
Extra Thick Stair Treads
Another popular look for modern staircases is extra thick stair treads. Although the 1-3/4" is our most popular extra thick stair tread, these stair treads are also offered in 1-1/4", 1-1/2" and in two grade choices (1S and 2S) depending on what parts of your stairs will be visible. A neutral space can come alive with a contrasting color wood on the staircase or you can play it safe and match these treads to your existing trim. Extra thick stair treads complement an open staircase.
Full Thickness Stair Treads
If you are looking for a standard size thickness and normal treads, you should choose the full thickness stair treads. These are our most popular treads and are the most versatile. They work with a variety of styles and color schemes. You have the ability to customize with many wood types and finishes. They can instantly take your existing staircase and turn it into the modern look you have desired.
Hand Scraped Stair Treads
Although rustic isn't a word that would come to mind when you think about a modern home, this style is actually very popular today. Once saved for country homes and log cabins, rustic wood finishes are now a big trend in all homes today. Our hand scraped stair treads have the rustic charm that can complement many different spaces. Each stair tread is carefully and slowly scraped by the hands of skilled craftsmen, giving these treads a one of a kind look that will add charm to your home. Try a wood like walnut to create a rustic look with a modern twist.
Replacement Treads
Replacement treads are a simple way to create a new look. Primarily used to replace carpeting, these stair treads are easy to install and instantly update your space. Our replacement treads are ¾" thick with a 1 1/16" thick body. By choosing from one of our many wood choices for your replacement stair treads, you can create a one of a kind look for your modern home.
All of our stair treads are offered in custom sizes and styles. By offering various lengths and widths, we can ensure a perfect fit for your staircase. In addition to having your choice of wood, our treads come in unfinished, prefinished or prestained. Our prestained stair treads offer many choices of high quality Woodwright stains to ensure that they will match your existing trim and furnishings.
When you choose Country Mouldings, you can ensure that you are installing the finest quality stair treads in your home. Our treads are made with FAS and Select grade lumber, making them beautiful and durable. With custom sizes and instant online quotations, updating your home has never been so easy!
Take a look at our stair tread choices